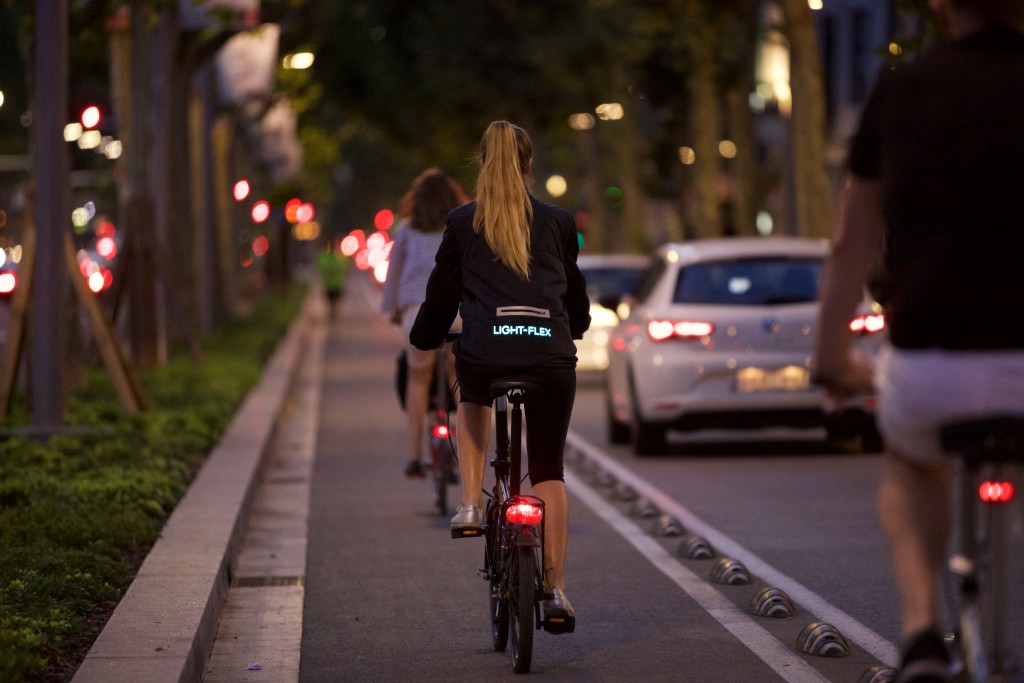 Light Flex now has three different offerings, targeting three distinct needs on the market. Active lights for Visibility, Style and Connectivity.
LFX Appliance aims straight at the PPE producers who looks for the next level of security application for their high-vis collections. LFX Appliance is a standard plug-n-play printed active light integration kit for garments. The kit contains fixed, standard ISO 20471:2013/ANSI 107:2015 certified reflective panels with embedded printed lights, flat printed cables, central unit, instructions, support and branding components. The standardizing in shape, measures and certification makes adoption and integration of active lights into both existing and new models fast and easy and provides an instant value adding functionality and opportunity to set apart from competition.
LFX Custom Light is a collaboration between Light Flex and the customer to design and produce a customized printed active light based on the flexibility in design and specifications that our products offer. The final result is a garment with superior visibility based on uniquely designed wearable light that truly stands out, creating both security and brand enhancement.
LFX Connected Intelligence is based on the multi-functional Central Unit component that host the battery and all functionality in the system. The Unit has open API's providing opportunities to support a variety of functionality by connecting to surrounding security and monitoring systems via any network. Once the connections are established functionalities such as geo-fencing, lonely worker SOS, secure location guiding in dark or smoke-filled premises, real time localization of a person's position, no matter the environment or circumstances, warning and alarms based on machine-human proximity, sensors for detecting poison, harmful noise, temperatures, time monitoring, data collection etc
And of course, there is an APP for this!
"We've have connected the Light Flex system with a number of tracking and monitoring security applications and used the information gathered to create awareness of danger and to send instructions to the user by activating the light in a certain order", says Martin Kull, Business Development Manager. "If there's a network, we can connect and once we're connected there´s really no limit to what we can do".
If you would like to know more about tour products and offerings, please send a request to: info@lightflex.com.
Subscribe to our newsletter to stay up-to-date on the latest news